Podcast #2: Thomas Timmermans (Rémy Cointreau)
Podcast #2: Thomas Timmermans (Rémy Cointreau)
In aflevering twee van de Van Dyck & Van Dyck Smaakadvocaten podcast is Thomas Timmermans onze gast. Thomas is cocktails & mixology ambassador bij Rémy Cointreau.
Deze jonge snaak is amper 26 maar lijkt al een eeuwigheid mee te gaan in zijn industrie. Op zijn 15e brouwde hij dan ook al zijn eigen biertje. Hij maakte een kleine omweg naar het wijnsommelier-schap en kwam uiteindelijk in de wereld van cocktails en spirits terecht.
Thomas ging aan de slag als bartender bij een van 's lands beste cocktailbars met fantastische leermeesters waaronder Dieter 'The Irishman' Van Roy en de godfather van de Belgische cocktailscene Ben Belmans. Hij won de prestigieuze cocktailwedstrijd 'Diageo World Class' en maakte daarna de stap naar het ambassadeurschap bij Cointreau als opvolger van zijn bartenderidool Dries Botty.
Thomas proefde in zijn carrière al zoveel cocktails dat het geen sine cure is om hem nog te verrassen. Toch ging ik de uitdaging aan en serveerde ik hem een experimentele cocktail die ik 2 jaar lang liet rusten tussen zakjes gerookt zout. De luisteraars die ook de eerste aflevering beluisterd hebben, weten intussen dat we ook aan onze gast vragen om iets mee te brengen. Thomas bracht voor ons een nieuw product mee uit zijn portfolio om te proeven.
Ben je benieuwd? Luister dan naar onze aflevering met Thomas Timmermans via deze link, je favoriete podcast player of klik hieronder op aflevering #2.
---
POWERED BY MEUG & Negroni.be
Een podcast over bier, wijn, spirits en cocktails.
Van Dyck en Van Dyck, de Advocaten van de Smaak, nodigen elke aflevering een gast uit de drankenwereld uit op de beklaagdenbank. Hun doel is de gast vrij te pleiten van aantijgingen of veroordelen voor bewezen feiten.
S2 #11 Shilton Almeida (M&H Distillery)
Another English episode!
For those in the whisky industry, our next guest needs little introduction: Shilton Almeida is a familiar face at whisky festivals. Born in India, relocated to Scotland, and working for an Israeli distillery, Shilton has covered many miles in the wonderful world of whisky. Recently, he is also known in our country as "De Shilton" because independant bottler Klubb23 (see also our episode with Dominic Verstappen) released a whisky in his honour and his name. His face is even on the bottle!
Voor de mensen uit de whiskyindustrie heeft onze volgende gast weinig introductie nodig: Shilton Almeida is een graag geziene gast op de whiskyfestivals. Geboren in India, verhuisd naar Schotland en werkende voor een Israelische distilleerderij. Shilton heeft letterlijk en figuurlijk al heel wat kilometers op de teller in de wonder wereld van de whisky. Sinds kort staat hij ook in ons land bekend als "De Shilton" omdat Klubb23 (zie ook onze aflevering met Dominic Verstappen) een gelijknamige whisky uitbracht ter ere van Shilton.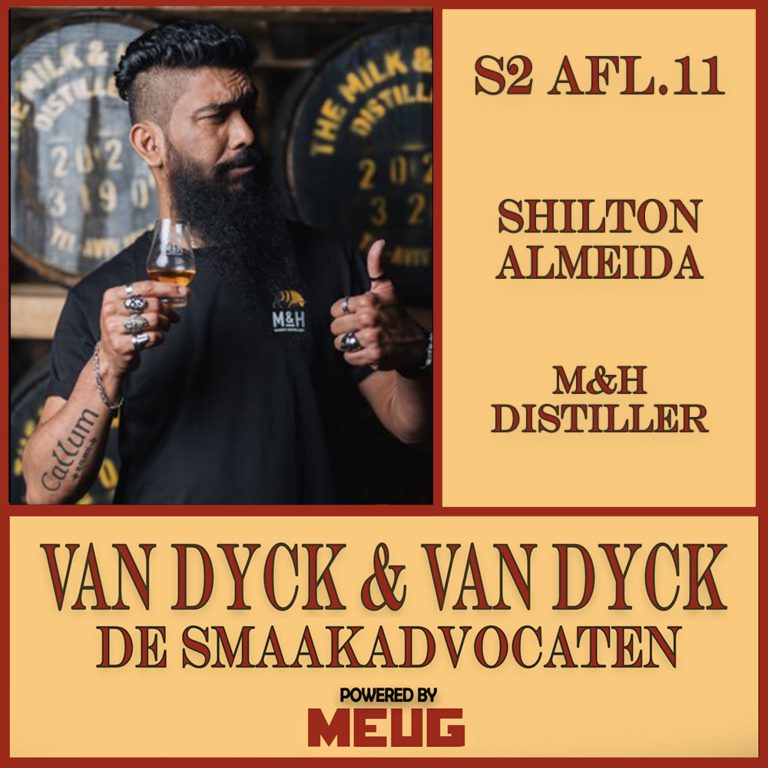 Search Results placeholder
---
Wil je op de hoogte blijven van al onze afleveringen?
Abonneer je dan gratis via Spotify, Apple Podcasts of Google Podcasts.